ABOUT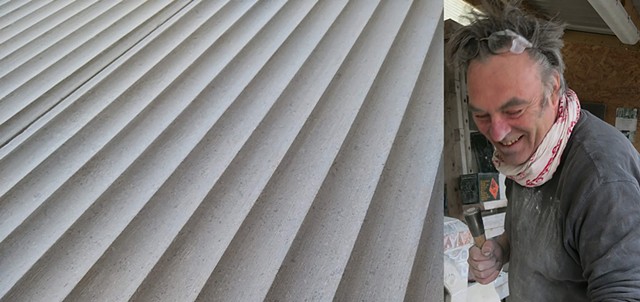 New website a work in progress. More to come.
I am a sculptor, maker, letter carver, and stone mason living and working in Cambridge. For the last 35 years I have worked in stone, mainly indigenous British quarried stone. I trained as a stone mason in the early 1980's after obtaining a Fine Arts degree.
I have worked in quarry masonry shops and as a sub-contractor on a variety of restoration, renovation, historic and ecclesiastical conservation projects. Throughout this time I have also produced a considerable number of bespoke memorials as well as making work that is influenced by life long interests in archaeology, artefacts, folk art, and signs and symbols.
My work is concerned with subjects that preoccupy me; a fascination with pattern, rhythm, light & shade and also an exploration of meaning, unity and completeness in paradox and opposites.
In a practical sense the work is informed by my training as a stone mason and architectural carver. It utilises the disciplines and geometry of the craft that has formed my life for many years; carving and incising stone is the art of manipulating light and shade upon a solid surface. The work is also coloured by travel, particularly on the Mediterranean coast and islands, and the South Western states of the US.
Literature is important; I don't make work to depict but to evoke, rather as poetry seeks not to describe but to resonate. The short story in its honed and polished completeness also plays a part.
The pieces often contrast highly finished surfaces with the broken edges of ruin; a form of ambiguity. Archaeology, artefact, patina, myth, implied narrative are all informative. It seems both more poignant and increasingly urgent to create by eye and hand at a time of accelerating change & methods of production.
I'd like the work I make to act, without being proscriptive, as a form of memento mori and an evocation of time passing; our own individual spans, cultural historical time & geologogical eons; something more than decoration - imagined histories.